Let us introduce ourselves, we are a small, American family owned Inn. This precious business has been under the care of our family, the Wallers, for almost 2 decades. We strive to make our guests feel as if they are an extension of our family.

Because we are owned privately, we are free to conduct our business in a unique and outstandingly, superior fashion. You will find NO cookie cutter, corporate America here.

You will find a refreshingly different place to call home for a stretch. Each room is decorated and cared for uniquely, to give you an experience similar to staying in the guest room of your best homemaking friends or relatives.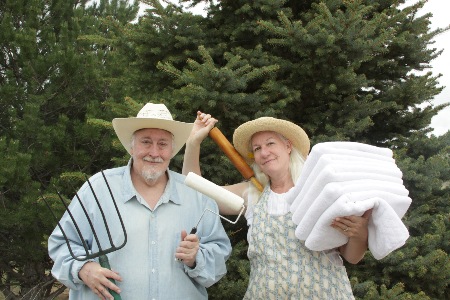 We care for our property and business as if it were our most precious child. We are the true "Mom and Pop" style business. Pop, also known as Wayne, cares for the maintenance of the building, landscaping and room upkeep. You will find him busy about whatever project is currently underway, be it tree trimming, bird house building, toilet replacements, painting, caulking or any of hundreds of others. Mom, also known as Karri, will usually be found in one of two places; in the rooms making them shine and sparkle or in the gardens, tending the veggies, herbs and flowers. She may also be found laundering what can be 20 loads of laundry daily or busy baking fresh goodies for breakfast. We are a two man show and are very busy here each day, for you! You will, however have NO problem engaging Wayne on a lengthy discussion of almost any subject! Karri, likewise, would find it a pleasure to explain how or why we do things here the way we do. Ask about our honeybees, chickens, ducks, medicinal and culinary herbs or get a tour through our little greenhouse, we love to share our lives here.

Our building was built when they still used high quality materials and therefore true craftsmanship can be seen everywhere! Many folks are surprised when they ask about our building and find it is not 5 years old! Make no mistake, we are always in forward motion to keep everything in top notch shape.

UPDATE: We have a new mascot for the 2016 season! Meet Obediah!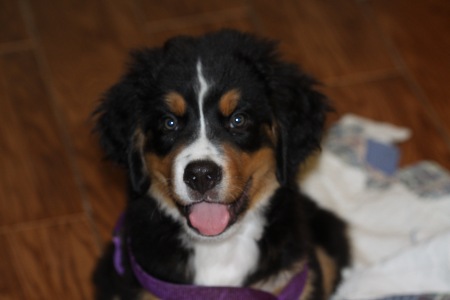 Wayne and Karri invite you to come stay for awhile, visit, rest and leave feeling a bit less stressed. They both devote themselves to your well-being each and everyday!!